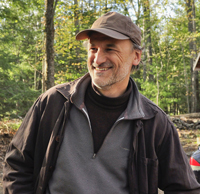 Frederic Colier is a French-born polyglot filmmaker, playwright, novelist, musician and entrepreneur.
Born in Audresselles, France, Frederic Colier is from French and Flemish origins. He has spent most of his life abroad, traveling from Russia to Australia. He has been based in New York City since 1995. He joined his first band, The Fallers in the Bordeaux region as a drummer in 1979. The band never played live however. During this apprenticeship period, Frederic picked up the guitar and eventually settled for the bass guitar.
Living in the UK from 1984 on, he joined several indie rock bands around London.  After spending two years with Transmission on keyboard and bass, he joined the Birmingham-based pop rock band Purple, along with Nigel Clark, Mathew Priest.  The band went through several incarnations. Ben Lurie was inviting to join only to quit the band a week later to join Jesus and Mary Chain. Andy Miller was incorporated into the trio, which renamed itself Dodgy.  They later charted success in the European charts through the late 90s.
Frederic's aggressive bass playing style, modeled after lead rock bass guitarists of the 60s' and 70s', mainly John Entwistle of the Who, Jack Bruce of Cream, Chris Squire of Yes and later Jean-Jacques Burnel of The Stranglers, got him an audition with alternative rock band New Model Army as a potential replacement for the then-departing bass player, Moose Harris. Frederic's ambitious musical career however came to an abrupt end the day after the audition. His left wrist was shattered when an untied grand piano at the back of a truck tipped over during a move . . .
Frederic segued from the music to the theater stage. It was while working a her Majesty's Theater, in the West End of London, that he completed his first plays and novel. Though most of his writings from this period was in French, he wrote his first play and songs in English.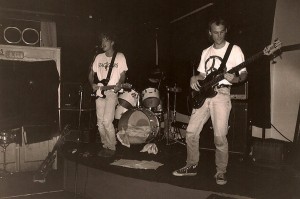 Relocating to Barcelona in 1992, he taught music, while playing in several local bands, and continued writing. It was during this time that he wrote his first screenplays. In 1995, he moved to the States. While working at the New York-based bilingual theater group, Ubu Repertory Theater, he completed a Masters in Film Studies at Montclair State University, NJ. In 2001, following the closing of Ubu Rep, he took a temporary assignment for Morgan Stanley at the World Trade Center. He had been working there for only six months, when he witnessed first hand the 9/11 attacks…
He  created Altered Ego Entertainment, a production company the same year, and several other businesses along the years: Book Case Engine and Lingorama. He continues playing music with his group: Hyper Global Intensity, composing soundtracks for his films and TV series.
Frederic Colier has produced and directed multiple film and TV projects. His directing credits include the short films, "Of Wanderlust" (2003), which screened nationally and internationally and won awards on the festival circuit (Izmir, Turkey; WorldFest Houston, Fire Island, NY), "Desert Weeds" (2004) Clermont-Ferrand, and Bounce" (2005). He completed his feature debut with "The Hindenburg Omen" (2008) and has been the creator and executive producer of the ongoing TV series Book Case TV and Books du Jour. His films tends to focus on the emptiness of modern life where castaways in search of meaning flounder through life. His characters are attracted to experiences just to feel alive.
As a writer-screenwriter, he was the recipient of a 2007 Panasonic Digital Filmmaker Grants, at the Independent Feature Project Market (IFP Market) for his script "M & N." His screenplay "Made in China" was selected at the IFP Market 2009, at Dreamago screenwriting workshop 2010, and the Nicholl Fellowship in Screenwriting as a quarter finalist.
As an author, Colier has written several plays as well as literary and non-fiction works. His first play, "Life Support Machines," was written to participate in a playwriting contest in the East End of London in 1989. Though he did not win, the jury encouraged him to persevere, noticing the existential quality of his writing. Since then, several of his plays have either been read or produced on both sides of the ocean, notably "Barbed-Wire Hearts," "Heartbreak Tango" and "The Proposal," the latter was adapted into the feature film "Dinosaur Park." He has written several novels, "Barabane! Barabane!" and "Fleur de Peau" (which will probably never be published), and the collection of short stories "Témoignages Crépusculaires" in French. He has authored the play collection, "Playground for Talking Heads," the novel, "The Rain Crow", the short story collection, "A Memoir of Absence," and the experimental novel, "The Bosphorus Hug." He sometimes writes in popular genres under the name of Frank Debonair, the private book investigator featured on Book Case TV.
Finally, he is currently completing a PhD at CUNY Graduate Center, in Comparative Literature, writing his dissertation on French Muslim-converted René Guénon.