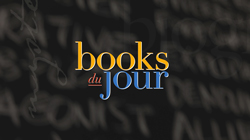 Books du Jour, 2014-16, TV Series (24 episodes to date)
To date, combined with Book Case TV, we have shot 60 episodes. You can watch them along with 100+ videos, special editions, and interviews on our Youtube channel Books du Jour. In case you prefer listening to the program, you can also download our Podcasts.
Below are the most recent episodes of my TV series, Books du Jour.  Episode #212, Helen Wan, Susan Strecker, John Benditt. Episode 211, Rick Moody, Mary Morris, and Julia Titus. Episode #210 features Mary Pilon, Charles Spencer, and Roger Cohen. Episode #209 features Greg O'Brien, Charlotte N. Markey and Jena La Flamme. Episode #208, Alan Hruska, Shari Goldhagen, and Amanda Vaill. M J Rose, John Oller and Alyson Richman are on #207. Jon Ronson, Jane Green and David Margolick are the guests of episode #206.