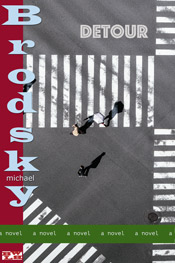 "Detour," a novel by Michael Brodsky (BWLB, ebook $ 5.99, print $23.99)
Detour charts the struggle of a film-crazed young man to shape his identity; it is also about his resistance to doing so at every turn. Owning an identity can mean being straitjacketed, condemned to a living death; language becomes both an escape from the straitjacket and its evilest genius.
Detour is also a story of first love, as it concerns the intense, transient sexual relationship between the young man, who is very reluctant about to enter medical school in the Midwest, and a rootless former heroin addict named Anne.
The hero of Detour experiences movies the way Don Quixote responds to the romances of chilvary—as being infinitely more real than anything else in the world. Hence the connections relentlessly made between his own often Bresson, Welles, Fellini, Ophüls, Sternberg, Sirk, Karlson and Godard. Camera movements, cuts, dissolves, tension between sound and image—these torment, fascinate, liberate and exalt, because they seem to lie just beyond the vampire clutch of words, thoughts, analysis.
It is within such contexts that one begins to understand the "detours"—social, psychological, familial, erotic, existential—that frustrate and enrich the protagonist's quest for love, for connectedness, for the satisfactions of a calling. As well as the artistic detours that are crucial to depicting his complex, lacerated, maturation.
It is by means of a technique that has truly absorbed the formal lessons of the novel and through an extraordinary command of language—and of the many different languages inside language: colloquial, technical, abstract—that Brodsky makes this account of the growth of the self so unnervingly new and unpredictable. In sentence after sentence, he manages to discharge the shock of the unknown, the unspeakable, the never before said.
Detour is a vastly expanded version of the novel that received the Ernest Hemingway Foundation Citation of the PEN American Center in 1979.