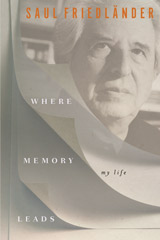 "Where Memory Leads" by Saul Friedländer.
(Other Press, pp 284, $24.95)
If you remember the Pulitzer Prize winning book, "The Years of Extermination," you will know at once that this review refers to Saul Friedländer. If you also know that he spent sixteen years writing his magnum opus, you could claim that he spent 80 years writing his new memoir "Where Memories Leads." It is riveting account, the coda marking a life intertwined with the Holocaust, a project already initiated with his first memoir "When Memory Comes," published more then thirty years ago (a book re-released at same time). Besides from the heart-wrenching topic depicting the trauma of a childhood spent during the Third Reich, watching his parents being deported, the memoirs have a different tone. The former deals with a man struggling with comprehension and uncertain answers about his life, at the peak of it, while the second has the feel of a man looking at his journey, with the mindset that he has reached the sunset of his life. The questions have been fulfilled, unless he is now reluctant to open new paths. With resignation comes insight.
Friedländer's life has been defined by his "monumental" contribution to Holocaust Studies. The book spans his whole life, from his birth at the worse possible time, the beginning of WWII, to present day, fitting perhaps the cliché that most Jews encountered after the war: finding a home, moving from country to country, if not continent to continent. The book clearly stipulates that Friedländer found a home in the intellectual journey of his own childhood and destroyed Jewish heritage, by building a defense and knowledge that could not be taken away from him. It ultimately cemented his strong Jewish identity. This makes for a different stance, more confident, accepting, resigned, engaged and engaging.